How to solve healthcare challenges with innovative technologies?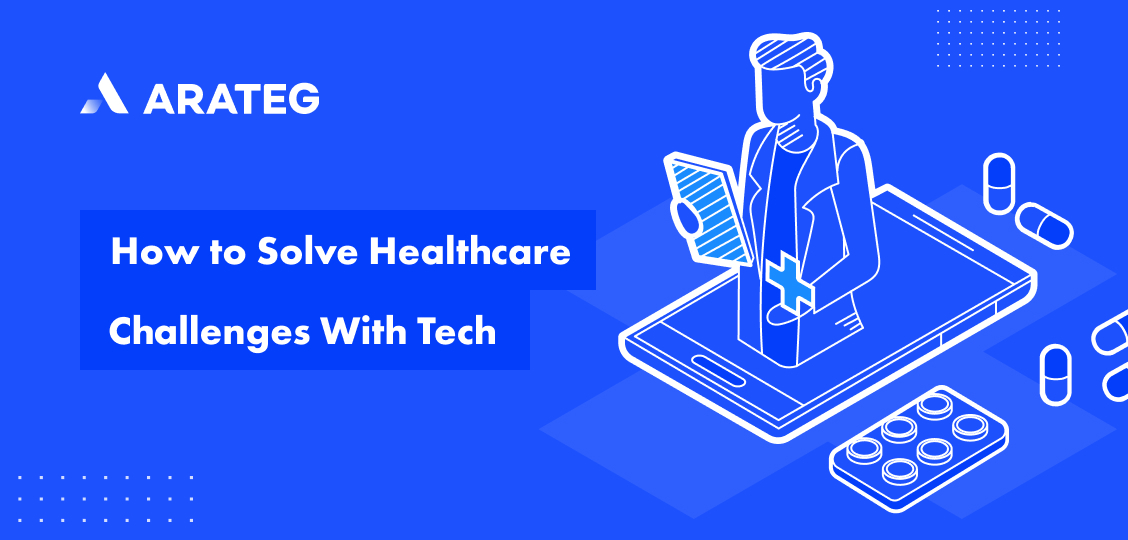 The healthcare industry is rapidly developing under the impact of innovative technologies. There are plenty of digital medical solutions that help improve treatment, increase staff productivity, streamline workflows, reduce costs, and minimize human errors. Artificial intelligence, blockchain, smart devices, chatbots, mobile and web apps, patient health portals are being widely introduced on the market.
At the moment, we are witnessing the COVID-19 pandemic, which showed us how important it is to be prepared for critical situations, overcrowded hospitals, and flows of user requests. How will the world change after the coronavirus outbreak?
We believe that clinics, pharmaceutical companies, MedTech companies, public health organizations, and insurance firms will focus more on adopting healthcare advances, especially in remote health management.
According to the report "2020 Global Health Care Outlook" by Deloitte Insights, healthcare spending is predicted to increase at a CAGR of 5% over 2019–2023, up from 2.7% in 2014–2018. The worldwide MedTech market size reached $430 billion in 2018 (Statista). In 2024, the global sector's revenue is anticipated to grow to about $600 billion.
What's driving the healthcare digital transformation?
More cost-efficient and accurate therapies
The need for preventive patient care
Improved patient treatment and customer service
The necessity for medical data analytics
The need for remote health monitoring and management
Now, take a look at how medical providers can address different challenges with the help of advanced healthcare software solutions.
Top 8 medical software solutions for healthcare providers
1. Software for remote health monitoring and management
Remote health management is one of the key innovations in the industry. People can stay at home while receiving the best treatment, doctors save a lot of time for seeing more patients. Thanks to data visualization and statistical reports, specialists receive the most detailed data that traces a disease in progress. There are a number of technologies that allow physicians to monitor health distantly.
These medical software solutions involve:
Smart devices that measure patient health indicators, for example, arterial pressure, oxygen level, blood glucose level, etc. and wirelessly transmit this information to physicians.
Mobile and web applications that enable users to upload health information, share it with doctors, communicate with specialists online, set up reminders about taking medicines, calculate and monitor caloric intake.
Wearables that automatically track information such as user pulse, heart rate, physical activities, tremors, blood glucose level, quality of sleep, etc., and send the collected data to a medical provider.
Smart devices and biosensors that monitor health in real-time, instantly see changes in user normal activities, detect arising issues, and even call an ambulance if necessary. These solutions are especially useful for the treatment of elderly patients and patients with chronic diseases.
As wearables, biosensors, and smart devices offer the information, which is read directly from the user and is given in the form of statistical reports, doctors have access to the data of a higher quality than those received during physical visits.
By employing these digital medical solutions, you will detect problems much faster, prevent deterioration of health, and control the disease. With the most accurate data, you will also improve patient care while saving time and resources.
2. Blockchain solutions for data security, storage, and sharing
As blockchain technology provides lots of benefits, medical organizations are adopting it into their workflows. The worldwide blockchain in the healthcare market is predicted to reach nearly $870.5 billion by 2024.
Representing a decentralized distributed ledger and being based on cryptographic algorithms, blockchain allows medical providers to securely change and exchange information between multiple parties. These parties can involve employees, departments, other medical organizations, and insurance firms.
A few years ago, Guardtime partnered with Estonian eHealth Foundation to adopt a blockchain solution to secure 1 million medical records and ensure real-time data visibility. Therefore, thanks to blockchain software, you can not only carry out financial transactions but improve data management, minimize paperwork, increase transparency, and prevent fraud.
Check out the complete checklist to see whether your company will benefit from using a blockchain system or not.
3. Patient health portals for user support and remote treatment
Imagine a website or web application—a patient health portal—allowing people to receive a range of services online. This is a much better alternative to phone calls and emails. This solution can enable users to:
Communicate with physicians or nurses while staying at home
Schedule appointments
Share health data with medical providers
Receive consultations via chats
Explore healthy food recipes
Find the required information
Request prescription refills
Check out test results, clinical records, and health/disease statistics
Receive push notifications, for example, about the scheduled appointments
With a patient health portal, you will process more user requests, relieve the time of doctors and nurses on other important activities, automate multiple tasks, and enhance customer service.
4. Personal health record systems for storing medical data
The main goal of a personal health record (PHR) system is to collect and store user medical data. Generally, people can access a PHR application via any web-enabled device including laptops, tablets, smartphones, etc. Both healthcare teams and individuals have the ability to view their clinical records, test results, and other information at any time.
A physician can create a treatment plan with personalized recommendations—based on the provided data such as drug allergies—and share it via a mobile application and track how the process is going. Users will receive automatic reminders about taking the required medications, answer doctor's questions, and access real-time data.
5. Artificial intelligence for fast and informed decisions
Artificial intelligence-based software can help you to analyze large amounts of health data including various reports, records, surveys, hospital charts, customer requests, online sources, as well as the information that was collected from smart devices and mobile apps.
Today healthcare organizations are employing AI solutions in research and development allowing specialists to automate clinical trials and make faster and better decisions. Through efficient data processing using machine learning algorithms, doctors are able to make a diagnosis much more quickly.
Furthermore, sometimes it's just impossible to keep in mind tons of information, especially associated with rare cases or complex scientific studies. Here AI can also assist companies by enabling instant data search.
6. Virtual appointments for remote health monitoring
Virtual appointments are another element of remote health management. Clinics and hospitals can allow patients and doctors to communicate via video conferencing tools. As a consequence, people will be able to receive ongoing care without or with fewer face-to-face visits.
This is very helpful in the case of minor illnesses and consultations. Additionally, a user will get the ability to turn to world-famous physicians and healthcare organizations located in the other country. Certainly, an online visit lacks an in-person analysis and evaluation, which may lower the accuracy of diagnosis. However, this issue can be solved by using remote health monitoring devices and mobile applications.
7. AI-based chatbots for request processing and personalization
As Innovations in Healthcare reports, due to COVID-19, some medical organizations had a 2700% rise in user requests for support and information. The number of other queries also increased: those associated with mental health grew by over 27%+ and those referred to interpersonal communication—by more than 163%. Now, healthcare companies are receiving thousands of calls and emails per day.
Incorporating an artificial intelligence-based chatbot into your system, you will enhance customer service and automate request processing. Imagine how it can work: when users enter a website or application, they are navigated through a series of questions.
By analyzing the collected data, a bot will offer the required information, meaningful personalized recommendations, or even therapies. In more difficult cases, it will ask a patient to contact a doctor. AI-enabled chatbots are irreplaceable in answering frequently asked questions and providing 24/7 customer support.
8. Robotic process automation for performing manual tasks
Robotic process automation (RPA) solutions replicate activities of people interacting with software systems, for example, manual data entry, data validation through online sources and archives, data analysis and comparison, etc. RPA doesn't mean the use of physical robots but specific programs that rely on rules and instructions to complete various tasks.
In accordance with the Deloitte Global RPA Survey for 2019, RPA technology continues to meet and surpass client expectations providing companies across different industries with the following results: enhanced compliance (92%), increased accuracy (90%), raised productivity (86%), and reduced costs (59%). Analysts at Deloitte also revealed that payback from creating and adopting an RPA tool can be received at less than 1 year, with an average 20% of FTE (full-time equivalent) capacity.
In healthcare organizations, RPA solutions can support processes such as customer service and equipment ordering. For instance, you can reduce the time on email communications by up to 85%. Or clients of a MedTech company may need to purchase some devices but for this purpose, they have to manually fill out dozens of fields. This is another type of operation where an RPA bot can replace humans while saving their time.
Wrapping it up
There is a wide range of innovative healthcare solutions that support various tasks and processes. With the help of technological advances, medical providers can successfully cope with not only everyday challenges but also with critical situations like the current COVID-19 pandemic. The main advantage of software tools such as mobile apps, RPA programs, and AI-based chatbots is that they can work 24/7 without errors while being available at any time.
Using digital medical solutions, you will be able to:
Improve patient care and treatment
Automate manual, routine, and rule-based tasks
Reduce paperwork and email communications
Enhance customer service
Increase data accuracy, security, and transparency
Process numerous requests much faster
Leverage the power of accurate healthcare data analysis
Prevent deterioration of patient health
Provide efficient remote health monitoring and management
If you have questions about the topic of healthcare digital transformation or want to request a project consultation, drop us a message via this contact form or email [email protected]. Please, briefly describe your issue and we will get back to you within 1 working day.
Author: Andrew Volchek
Andrew Volchek is a Co-founder, CEO at Arateg Custom Software Development Company, focused on helping SMEs and startups work smarter, grow and increase productivity with the help of modern technologies. Contact him via email to discuss how to develop your IT project or solve a business challenge.  

link