Ideas shine at Innovation Week student pitch contest | MUSC
Innovation Week 2023 officially kicked off at the Medical University of South Carolina, headlined by the Charleston Division's Shark Tank event that saw researchers and faculty circling the tank for a chance to win $15,000 in funding. However, a select group of students decided to get a bite of that funding as well. 
On Monday, April 24, nine students in six groups competed in their own version of MUSC's Shark Tank, pitching to three faculty and staff members in a student pitch competition that would see the winning group take home a prize of $2,500 to invest in its own project. The competition, held in person for the first time, was hosted by the Office of Innovation and the Student Innovation Ambassadors Program, which falls under MUSC Libraries. The program is designed to encourage talented student innovators to create solutions to health care-related challenges.
The goal of the MUSC Innovation Ambassador Program is to provide a platform for entrepreneurial development and technological innovation in health care systems, driven by student representatives from all six colleges of MUSC. The student-led initiative, using innovative solutions and modern technology, also acts as a student resource, with support from the Office of Innovation. 
Most of the students that competed Monday are either in the Innovative Solutions course and/or Introduction to 3D Printing in Healthcare. The course director for both and director of Digital Strategies and Innovation, Erick Lemon, said the pitchers represented the level of ingenuity today's students now have.
"As the course director for Innovative Solutions in Healthcare and Introduction to 3D Printing in Healthcare, I am thrilled to see the level of innovation and creativity shown at this year's student pitch competition," said Lemon. "The students from both these courses demonstrated their ability to leverage practical solutions to health care problems using the concepts of design thinking and business planning. They are genuinely inspiring."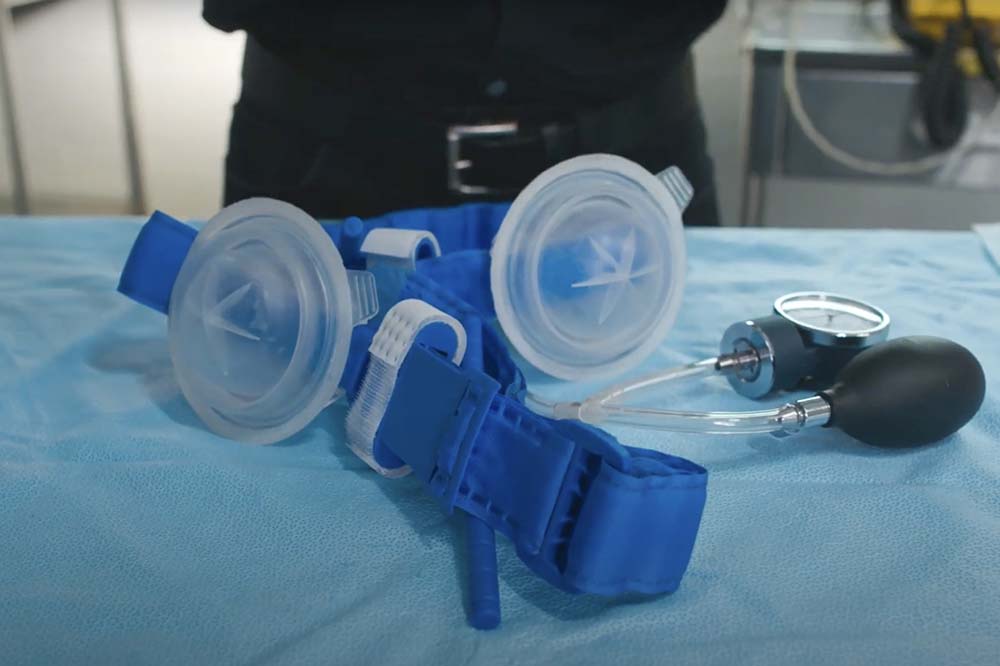 While all of the teams scored closely, the winning pitch came at the end of the program from first-year medical student Joshua Kim, who got the judges to bite on his project, the SAVER. The SAVER device is an innovative technology being developed under Heartbeat Technologies that aims to increase the survival rate for cardiac arrest patients and enhance recovery by minimizing neurological impairment. 
"Cardiac arrest is fatal over 90% of the time and takes the lives of over 350,000 Americans each year," said Kim. "For the 10% that do survive, 90% will have neurological defects that will affect them for the rest of their lives. CPR alone cannot deliver adequate amounts of blood to vital organs like the heart and brain."
To counter this problem, Kim conceptualized the SAVER, an external occlusion device that blocks blood flow going through the patient's femoral arteries. By cutting off the circulation going to the legs, it helps to drive and keep blood heading toward the patient's heart, brain and other vital organs while also not interrupting CPR protocol and providing real-time CPR feedback. 
The device, shaped like a tourniquet with pneumatic bulbs, applies focal pressure to femoral vessels to redirect blood flow. The device also features sensors in the bulbs to inform the user of whether the compressions are generating adequate pressure. It's also easily storable and would be easily accessible in airports, stadiums, offices or other public spaces, with more than 50% of cardiac arrest cases happening in the community. 
Kim will use the funds from winning the student pitch competition to develop a version 2 prototype. Heartbeat Technologies has already completed a preliminary large-scale animal study and has seen four publications already based on their patent. 
"We want to make sure we have the most polished piece getting ready for testing here at MUSC with physicians who have already voiced interest in using our product in the Emergency Department. We also hope to get our project into the hands of Charleston EMS," said Kim. "We hope to get a basic prototype done within the next year so that we can hand these prototypes off and do a small-scale clinical trial here at MUSC."
While Kim walked away with the grand prize, Lemon said all of the competing students, most of whom are acting as CEOs in their own startup companies, have bright futures and have gained valuable experience and support for future pitches outside the University.
"Our students showed outstanding entrepreneurial ingenuity this year. I am amazed by the startup companies presented at this year's innovation week," said Lemon. "Their hard work and dedication to the care and improvement of health care solutions using cutting-edge technology is a testament to the future of health care. I am glad that MUSC Libraries was able to help facilitate some of the prototypes for their ideas using our new 3D print maker space, The Dream Studio."
link