Program aims to bridge gaps between technology and health care needs
Get the latest from Elizabeth Payne straight to your inbox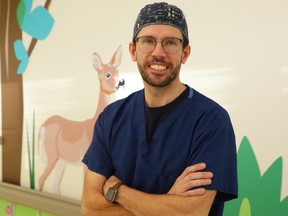 Article content
In 2005, ear, nose and throat surgeon Dr. Matthew Bromwich invented a simple device in his basement that would allow people to self-treat the most common cause of dizziness in adults, in just minutes.
When he brought his invention to the hospital where he worked at the time, he was told they couldn't assist him in getting it into the hands of people it could help.
Article content
"We don't do that here," Bromwich, now a surgeon at CHEO, was told. He was shocked, but not deterred. So he did it himself.
Bromwich created a company to develop and market that invention — the DizzyFix — and went on to invent and develop five more medical devices.
DizzyFix, which he has since sold, has successfully treated hundreds of thousands of people around the world for a condition called benign paroxysmal positional vertigo. It is a wearable visual guidance tool that helps guide the loose crystals out of the inner ear where they cause dizziness, into other non-reactive areas. The product is sold on Amazon.
Bromwich didn't stop there. He invented five other medical devices, including Shoe Box, a quick hearing test in a box that is now used as standard procedure for all patients at Bruyère in Ottawa, to quickly identify any undiagnosed hearing deficits.
Now, he is part of a team at the CHEO Research Institute that is focused on helping others develop innovative ideas into usable health products. He is innovation director for CHEO Research Institute's Technology Enabling Child Health Innovations (TECHI) team and part of a technology focused collaboration between CHEO Research Institute and Bruyère called 8-80.
Article content
On Wednesday, Filomena Tassi, the minister responsible for the Federal Economic Development Agency for Southern Ontario, announced an investment of more than $4 million for 8-80, to provide innovators with coaching and mentorship, seed funding and access to other health innovation supports. They will also work to help innovators in the early stages of product development with planning, industry networking and seed funding.
Both CHEO and Bruyère are already making use of high-tech innovations to help patients.
At CHEO, that includes a 3D printing hub from a Canadian startup called PolyUnity that was founded by three doctors, two of whom trained at CHEO.
Being embedded at the CHEO Research Institute allows them to quickly respond to needs, including helping design solutions to problems, using 3D printing, said company officials. They keep a catalogue of all the units, or products, they have printed so they can be easily reordered and reprinted.
The 3D printing hub has created more than 1,000 items since it located at CHEO about 18 months ago, said Dr. Jason Berman, CEO and Scientific Director of the CHEO Research Institute. Those items are now used in labs, clinics, operating rooms and elsewhere.
Article content
"It has been this great partnership of how we take innovation and bring it into the health care system," said Berman.
When Bromwich met with officials from PolyUnity, he was hoping they could help with a problem at CHEO and most other hospitals — the amount of equipment in need of small repairs that can no longer be used because fixes are not easily found or not available.
"These equipment graveyards are in the basement of every hospital," he said.
One focus of PolyUnity's 3D printing hub has been to address that. The company designed a 3D printed part to allow a stretcher to get back into service within hours of the problem arising, said Tom Burn, product and design hub manager with PolyUnity.
Having that capacity is crucial, especially during a time when global supply shortages have made it difficult to find parts to even make small fixes in equipment, said Berman. The partnership with PolyUnity is an example of how the gaps between industry, academia and healthcare can be bridged to solve problems and improve healthcare.
Bromwich is looking for partners to come forward with skills and ideas to help build bridges between business, research and healthcare. CHEO Research Institute is already working with two dozen companies on potential innovations, including employing artificial intelligence to make more efficient use of valuable operating room space, he said.
CHEO Research Institute is hosting a National High-Tech Innovation Conference at the Bayview Yards on Dec. 1 to nurture health innovation and entrepreneurship. For more information: cheoresearch.ca/innovation or [email protected]
Related Stories
COVID-19 cases, deaths continue slow climb

Ottawa's top doctor concerned about local mental health impacts of Israel-Hamas war
link