Siemens Healthineers, GE HealthCare unveil innovations at KCR 2023 < Device/ICT < Article
Siemens Healthineers and GE Healthcare introduced their recent technological advancements at the Korea Congress of Radiology (KCR) 2023, where Attendees had the opportunity to see firsthand the latest offerings from both companies in the realm of medical technology.
The convention is open from Wednesday to Friday at COEX, Seoul.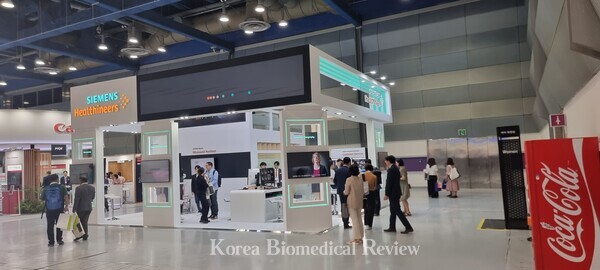 Siemens put its main focus on NAEOTOM Alpha, which is the world's first photon-counting computed tomography (CT) machine that applies quantum technology.
The device utilizes the QuantaMax detector's innovative direct signal conversion technology to produce consistent, high-resolution images with minimal dose.
Other features also include spectral imaging, independent of scan speed and temporal and spatial resolution, providing expanded clinical options and increased follow-up frequency, expanding the patient population that can be diagnosed with CT.
Notably, Thomas Flohr, Senior Principal Key Expert at Siemens Healthineers, held a session during the conference to explain the advantages of the photon counting detector (PCD) mounted on the NAEOTOM Alpha over the conventional energy integrating detector (EID).
According to Flohr, EIDs have a solid-state scintillator (GOS) that converts radiation into visible light, while PCDs have a detector made of the semiconductor material cadmium telluride (CdTe).
"As a result, EIDs require septums at regular intervals to block scattered light, increasing dead space and making it impossible to reduce detector pixels," Flohr said. "PCDs, on the other hand, do not require septum mounting because there is no conversion to light, no dead space, and detector pixels can be reduced."
Flohr also explained the advantages of Siemens' photon counting CT technology over other companies.
"Siemens is the first in the world to manufacture, produce, and commercialize a whole-body computed tomography machine using the new material CdTe," he said. "Currently, other companies are conducting research and development using other materials such as deep silicon or cadmium zinc telluride (CdZTe) rather than CdTe, but they have not yet reached the commercialization stage."
This shows how complex and technically demanding Siemens' new CdTe material is to manufacture and produce, he added.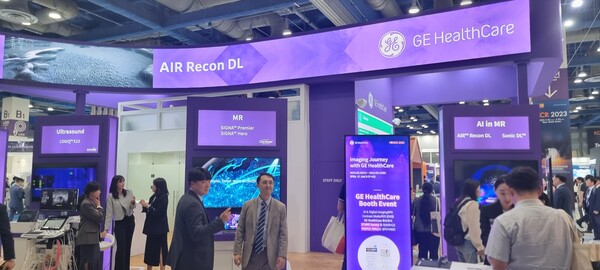 GE HealthCare showcased a variety of AI and digital imaging technologies during the conference.
Among the machines on display, the company placed particular emphasis on the AIR Recon DL, which is a software that enables deep learning-based image reconstruction on GE HealthCare's MRs for sharper images and faster scans.
The accompanying AIR Coil also features a lightweight, flexible design that allows the patient to wrap a blanket-type coil around the examination area for added comfort.
Depending on the area to be examined, 360-degree images can be taken without the patient having to move at various angles, enabling patient-centered care and better image quality.
Also on display will be GE's premium MR products, SIGNA Premier and the new SIGNA Hero, which both feature a Super G gradient (80 mT/m gradient field strength) for high-resolution and ultra-fast imaging.
On the CT side, the company is showcasing a device called Revolution APEX, which enables faster CT imaging with significantly improved contrast without patient movement, and reduces contrast dose, making CT exams safer for patients with reduced vascular or renal function.
TrueFidelity, the world's first U.S. Food and Drug Administration (FDA)-cleared AI CT imaging technology, was also showcased, providing low-dose results and high-quality images to benefit patients and readers.
In addition, various ultrasound products and solutions, CT and X-ray contrast agents, and interventional guidance systems specialized for radiology were also introduced.
In addition, the company held a symposium for radiologists on the theme of "Care for Radiology that has no limits."
At the symposium, Ibraheem Elmogy, GE HealthCare's Medical Executive for the intercontinental region, and other leading experts spoke about the use of AI and digital technologies in radiology and the clinical safety of contrast agents.
"Several studies have shown that doctors are complaining of burnout due to excessive workload, while a survey showed that radiologists have to do more than 900 readings per month on average due to the explosion of imaging diagnostic tests," GE HealthCare Korea CEO Kim Eun-mi said. "As a leading provider of advanced medical imaging equipment such as CT and MRI, GE HealthCare is developing and introducing integrated platforms and various AI and digital technologies to address the needs of the field and develop solutions."
link