Transformative health tech: Thailand's bold leap into the future of healthcare
In recent years, the global digital health market has seen an unprecedented surge, with its value expected to leap from USD 175 billion in 2019 to nearly USD 660 billion by 2025. Southeast Asia, with a burgeoning digital health market projected to reach USD 6.67 billion in 2023, is no stranger to this transformation.
Standing at the forefront of this regional wave is Thailand. The urgency brought by the COVID-19 pandemic, in tandem with Thailand's growing population and accelerating digital transformation, have catalyzed a shift toward adopting a more digital-centric healthcare model. These changes underscore Thailand's commitment to improving healthcare delivery and outcomes, thus shaping a promising future for digital health tech.
The state of digital health in Thailand
Thailand's digital health sector is projected to reach USD 1.4 billion by 2025. This growth will primarily be fueled by advancements in emerging technologies like telemedicine and mobile health applications, which are gradually becoming the norm in the nation. Simultaneously, the sector has been driven by the need to address healthcare inefficiencies, limited resources, and escalating costs.
The impetus behind this transformation, however, extends beyond the desire to innovate. The COVID-19 pandemic and an aging population have emphasized the urgency of digital health integration. The country's healthcare system, ranked fifth in the 2021 Global Healthcare Index for global health security and first for the quality of its laboratory systems, real-time surveillance, and reporting, offering a strong foundation for this shift.
Several startups are leading the charge, each offering unique technology solutions—from AI diagnostics to digital wellness platforms and beyond—shaping a diverse and innovative health tech landscape.
Plant-based healthcare solutions
Baiyaphytopharm develops biopharmaceuticals by using plants as a biofactory, aligning with global sustainability trends. "The next challenge is finding ways to build more companies like us that aim to commercialize their scientific works so we have a more sustainable ecosystem for life sciences," said Suthira Taychakhoonavudh, CEO of Baiyaphytopharm.
Comprehensive mental health services
Ooca, a leading mental wellness app, serves both individuals and corporate clients by providing online video consultations with certified psychiatrists and psychologists. Moreover, through its foundation, Wall of Sharing, Ooca collaborates with the Child and Adolescent Mental Health Radjanagarin Institute to provide free services to the younger generation, fostering better mental wellness from an early age.
Other platforms, like Sati App, provide on-demand listening services around the clock for over 13,000 users, with the support of volunteers trained in psychological first aid. Between April 2022 and March 2023, the app provided over 44,000 minutes of peer support.
"Our efforts in providing peer support as a foundational level of care are vital," said Amornthep Sachamuneewongse, founder and CEO of Sati App.
Transforming patient experiences
QueQ's virtual queuing platform, used by over 100 hospitals, is enhancing patient experiences by significantly reducing wait times, showcasing how digital platforms can improve healthcare delivery efficiency.
Healthcare and surgery marketplace
HD is transforming healthcare in Southeast Asia as the Airbnb for surgeries, via its HDmall platform. HD has aided over 250,000 patients since 2019, and its mission is to improve access to affordable healthcare and surgeries.
"As an active member of the Thai Health Tech Association, HD's objectives are to improve access to affordable healthcare and surgeries via innovative technologies. We believe the biggest technology lever in improving healthcare in Thailand is to build a marketplace for healthcare and surgeries," said Sheji Ho, co-founder and CEO of HD.
Smart healthcare
Leveraging artificial intelligence and 5G technology, Siriraj Hospital can perform rapid medical diagnoses, early illness detection, and efficient medical supply management, thereby streamlining operations and improving patient outcomes. Strategic partnerships with Medlinker and ClouDr further enhance patient care, offering support for chronic diseases and convenient prescription delivery.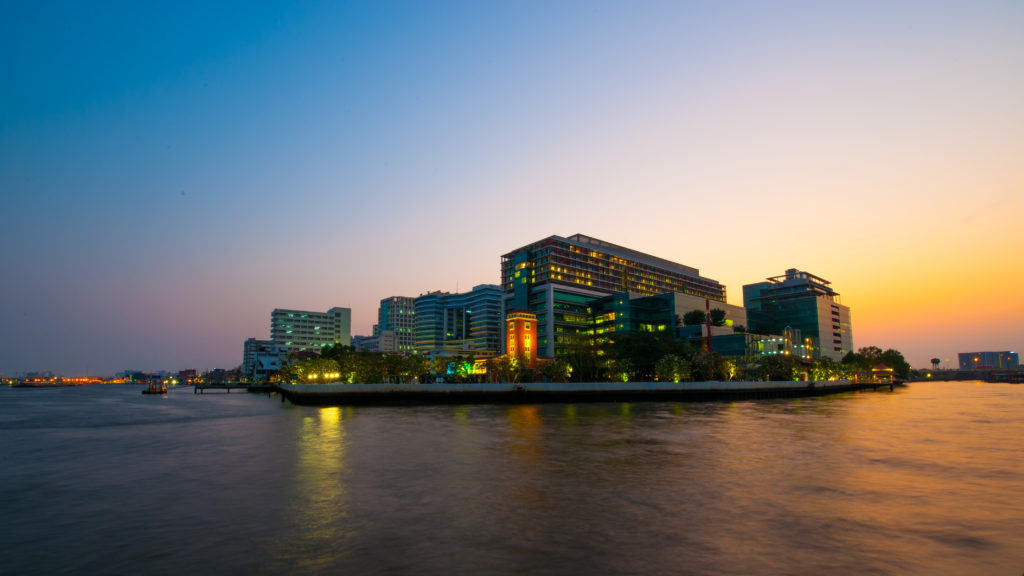 Government initiatives powering digital health transformation
The Thailand 4.0 policy and the nation's digital economy and society plan pave the way for digital healthcare projects to thrive. A key challenge, however, is a lack of collaboration between the private and public sectors. "Despite the challenges posed by this lack of support, the Thai healthcare sector has persevered and thrived, thanks to the dedication and determination of our entrepreneurs and public civil servants," said Kanpassorn Suriyasangpotch, founder and CEO of Ooca.
Emphasizing healthcare as a vital investment sector, Thailand's ten-year plan leading up to 2025 envisions the country as a hub of wellness and medical services. "Policies aimed at improving healthcare access, especially in remote or underserved areas, could create opportunities for innovative solutions like QueQ's," said Rungsun Promprasith, CEO of QueQ.
These combined efforts set Thailand on the path to becoming a leading medical hub in Southeast Asia, reflecting the nation's robust healthcare infrastructure and commitment to innovation.
Navigating challenges and seizing opportunities
Thailand's digital health landscape is characterized by innovation, yet hindered by challenges such as infrastructural gaps and digital illiteracy. A notable patient-side obstacle is the lack of a general practitioner (GP) system, fragmenting healthcare experiences. "The lack of a family doctor system leads most people to navigate the healthcare system themselves," Ho said.
Despite these hurdles, optimism pervades, driven by government support and market demand.
Looking ahead
As Thailand's digital health industry continues to grow and innovate, the nation is becoming a regional beacon for health tech advancements. Forward-looking initiatives, such as the implementation of AI in diagnostics, the establishment of smart hospitals, and the development of digital mental health platforms, paint a promising future for healthcare in the country and the region. Supportive government policies, combined with the energy and ingenuity of Thai health tech startups, ensures that Thailand is not only improving its own healthcare infrastructure, but is also poised to lead digital health transformations throughout Southeast Asia.

link