University of Arizona Health Sciences Strengthens Foundation for Future Collaboration with The University of Western Australia Medical School
Memorandum of Understanding opens door for research and innovation in health and medical sciences.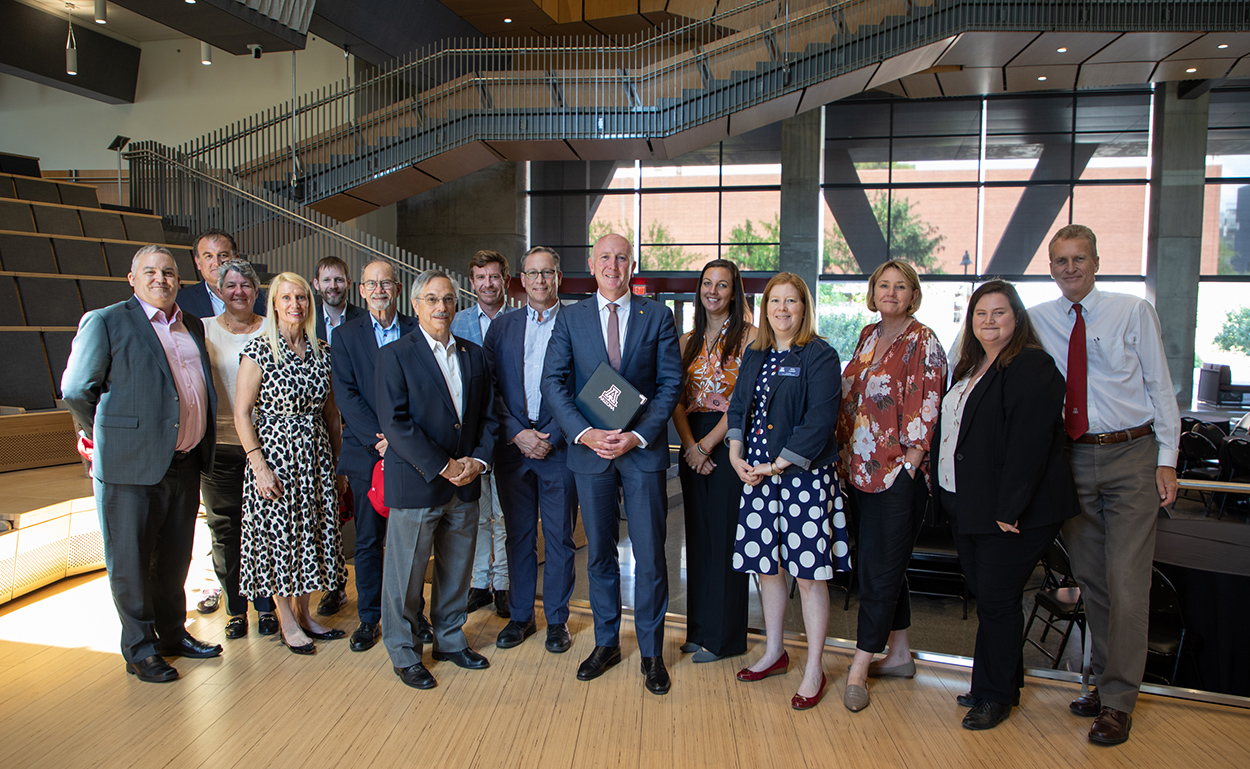 Tucson, AZ—On June 11, 2022, a Memorandum of Understanding (MOU) was exchanged between the University of Arizona Health Sciences, Tucson, Arizona, and The University of Western Australia Medical School, Perth, Western Australia. The MOU formalizes a framework for developing academic and cultural interchanges in teaching, research, and other activities in health sciences.
"It is quite an honor and pleasure for me to be a part of this innovative collaboration that will be of great benefit to so many," said Dr. Steven Goldschmid, associate vice president, International Medical Degree Program, UArizona Health Sciences. "The global Doctor of Medicine program will be the premiere medical education entity that trains physicians capable of improving the health and wellbeing of humankind throughout the world, producing expert clinicians, leaders, and innovators to serve minority and under-served communities and address the global shortage of physicians."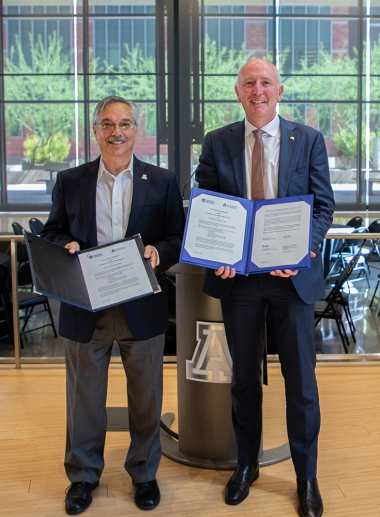 A delegation of representatives from government in Western Australia and from The University of Western Australia (UWA) arrived on Friday, June 11, for the ceremony and to tour key facilities and projects at the University of Arizona. The event was held in the Health Sciences Innovation Building and hosted by UArizona's Office for Research, Innovation and Impact (RII).
Representatives from Western Australia included Hon Stephen Dawson MLC, Minister for Emergency Services; Innovation and ICT; Medical Research; Volunteering. In his speech to the group, Minister Dawson reflected on some of the similarities between the two universities. Both UArizona, in 1885, and UWA, in 1911, became the first public universities in their respective states, and both universities are situated on land and territories of Indigenous peoples and have a deep commitment to those communities.
"It is very exciting to be here today, and to see this partnership growing between our two universities," said Minister Dawson. "While we live in one of the most isolated cities in the world, that is certainly not the way we think. We want our students to go far afield, to experience the best, and hopefully come home to help us have a thriving ecosystem in which education, health, and medical research can thrive. This MOU will allow us both to send our best and brightest in the areas of health, medicine, and law, to learn and exchange ideas with one another. From the perspective of the government of Western Australia, we appreciate this collaboration."
Other officials from the government of Western Australia included: Professor Peter Klinken AC, Chief Scientist of Western Australia; Rebecca Brown, Director General of the Department of Jobs, Tourism, Science and Innovation; Linda Dawson, Deputy Director General, Industry, Science and Innovation, Department of Jobs, Tourism, Science and Innovation; Angela Kelly, Deputy Director General, Health; and Professor Grant Waterer, Chief Medical Officer of East Metropolitan Health Service, who is also a Professor of Medicine at UWA.
Representing The University of Western Australia, in addition to Professor Waterer, was Professor Kevin Pfleger, Director of Biomedical and Health Innovation at UWA and the MTPConnect WA Life Sciences Innovation Hub. Also representing this Hub was Dr. Tracey Wilkinson, MTPConnect's Director Stakeholder Engagement Western Australia.
At a luncheon held earlier in the day, Professor Pfleger gave a presentation to Arizona attendees that included: Dr. John O'Neil, vice president, Research Development, RII; Dr. Carol C. Gregorio, professor and head of the Department of Cellular and Molecular Medicine and assistant vice provost for Global Health Sciences; Dr. Murat Kacira, professor, Biosystems Engineering & director of the University of Arizona Controlled Environment Agriculture Center (UA-CEAC); Daniel Moseke, manager, Research Development Operations, RII; Dr. George Fantry, senior associate dean, Student Affairs and Admissions in the College of Medicine – Tucson; Dr. Hillary Vance, assistant vice president, Southeast & South Asian Affairs, Arizona Global; Dr. Steven Goldschmid, and several others interested in learning about potential collaborations.
Professor Pfleger described many of the projects and partnerships in Biodesign and biomedical innovation that he oversees, and that may be areas on interest within the framework of this new MOU. "This new MOU is primarily focused on transnational medical education and joint research activities, and as a consequence of our discussions, I am also keen to extend Biodesign collaborations to our friends in Arizona."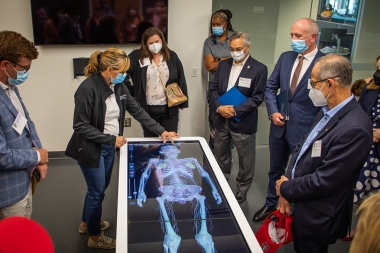 "This partnership is part of our overarching Health Sciences mission to reshape the future of global health care education," said Dr. Gregario. "Our two universities are aligned in our commitment to addressing global challenges, and together there is so much we can do to advance medical education, research and practice in innovative and dynamic ways."
Following the ceremony, Dave Biffar, director of Healthcare Simulation Operations for the UArizona Health Sciences Arizona Simulation Technology and Education Center, gave the delegation a tour of the ASTEC facilities, where students were learning and practicing techniques and procedures critical to their work.
In the afternoon the group was taken on a behind-the-scenes tour of Biosphere 2, led by the facility's Deputy Director and Chief Operations Officer, John Adams. They were joined by Dr. Joaquin Ruiz, vice president of Global Environmental Futures, RII, & director of Biosphere 2, who shared the history of the facility and spoke in detail about ongoing research, and Dr. Roberto Furfaro, professor of Systems & Industrial Engineering, and director of the Space Situational Awareness Arizona (SSA-Arizona) Initiative, who showed the group the facility's telescopes.
"I greatly enjoyed meeting the Australian delegation, describing our research at Biosphere2 and starting a conversation regarding resiliency efforts in areas impacted by global climate change," said Dr. Ruiz. "Although this visit focused on an innovative medical program, I believe that we will soon also embark on programs regarding food, energy and water. I am thrilled to partner with powerful entities that ensure we make a difference."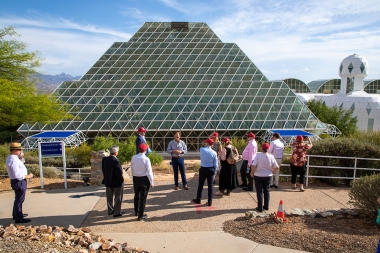 The two universities already have research collaborations in the areas of astronomy, space science and physics.
"The University of Western Australia and The University of Arizona share innovative approaches to medical education and research across a variety of disciplines, as evident by this robust relationship in the health sciences," said John O'Neil, vice president of Research Development for RII. "We are exploring our collective research development activities in spaces sciences, engineering, and controlled agricultural environments, and we look to establish complementary and collaborative research activities as we move forward. It was a pleasure to join with John Adams and Joaquin Ruiz in showing our UWA colleagues and Minister Stephen Dawson of the State of Western Australia some of the exciting research happening at Biosphere 2 while they were here."
In April 2021, the University of Arizona and The University of Western Australia signed an agreement establishing a framework for research and collaboration between the two universities, and formalizing intentions to offer two dual degree programs: a dual J.D. and a global M.D., that are currently under development and will open the door for students to earn advanced degrees in medicine and law. This new MOU further extends the depth of collaboration in the health sciences.
"We are happy to be working with our partners in Perth," Dr. Goldschmid said at the end of the ceremony. "I am sure that together we will produce something we can all be very proud of in the years to come."
---
The University of Western Australia sits on sacred soil alongside the Derbal Yerrigan (Swan River) on Whadjuk Noongar Booja. It has been a place to gather and learn for tens of thousands of years, sharing life lessons through stories that have been passed down from generation to generation of the world's oldest continuous culture. Established as the State's first university in 1911 and founded with a mission to advance the prosperity and welfare of its communities, the University opened in 1913 to just 184 students. Today, more than 25,000 students are enrolled from 100 countries. Since its beginnings, UWA has blazed the trail in producing remarkable and life-changing contributions across learning, teaching and research. But the University is more than simply a centre for education and research. For more than 100 years, it has contributed to the intellectual, cultural and economic development of Western Australia, Australia and the world. As a global top 100 university, UWA has forged and embraced connections with community, partners and industry to ensure its impact is far reaching, both now and into the future.
---
The University of Arizona, a land-grant university with two independently accredited medical schools, is one of the nation's top 50 public universities, according to U.S. News & World Report. Established in 1885, the university is widely recognized as a student-centric university and has been designated as a Hispanic Serving Institution by the U.S. Department of Education. The university ranked in the top 20 in 2019 in research expenditures among all public universities, according to the National Science Foundation, and is a leading Research 1 institution with $734 million in annual research expenditures. The university advances the frontiers of interdisciplinary scholarship and entrepreneurial partnerships as a member of the Association of American Universities, the 66 leading public and private research universities in the U.S. It benefits the state with an estimated economic impact of $4.1 billion annually. For the latest on the University of Arizona response to the novel coronavirus, visit the university's COVID-19 webpage.  The University of Arizona Land Acknowledgement

link