Viatom Revolutionizes Healthcare With Innovative Wearable Technology Solutions, Business News
Viatom is redefining continuous health monitoring with wearable devices.
United States – September 12, 2023 —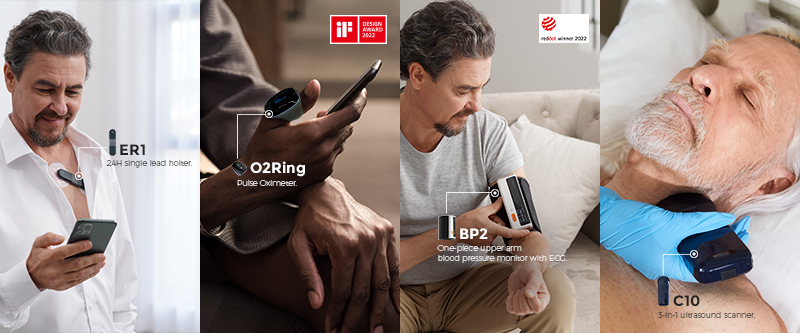 Viatom, a pioneering healthcare technology company, is at the forefront of the healthcare revolution with its groundbreaking wearable devices designed to transform how to monitor people's health. With a mission to empower individuals and healthcare providers with real-time data insights, Viatom has successfully provided authoritative remote health management tools and services to more than 300 medical institutions, insurance companies, and healthcare institutions around the world. These innovative products, which have received FDA approval, represent a major leap forward in the quest for personalized healthcare solutions.
Wearable devices have emerged as a game-changer in healthcare, enabling continuous monitoring of vital health parameters in everyday settings. Viatom has harnessed this potential to develop advanced ambulatory blood pressure monitors and wireless Holter electrocardiograms that are set to redefine patient care and management. These innovations offer a glimpse into a future where personalized healthcare is seamlessly integrated into human lives.
Viatom's ambulatory blood pressure monitors represent a leap forward in understanding the intricate relationship between blood pressure fluctuations, daily activities, and sleep patterns. This innovation is poised to play a pivotal role in optimizing medication dosages and timings, ensuring that individuals receive the most effective treatment. By offering a comprehensive view of blood pressure trends, these monitors empower patients and their healthcare providers to make informed decisions for better health outcomes.
On the other hand, breaking barriers in cardiac monitoring, Viatom's dynamic electrocardiogram technology introduces the smallest 12-lead dynamic ECG currently available in the market. This palm-sized marvel can monitor cardiac activity continuously for up to 72 hours, providing a comprehensive snapshot of heart health. With such a powerful diagnostic tool at hand, healthcare professionals can detect and address cardiac issues more efficiently, enhancing patient care and management.
Committed to pushing the boundaries of wearable technology to empower individuals and healthcare providers with actionable insights that can lead to healthier lives, these two products are still under development with immense promise for the future. Viatom's dedication to wearable health technology is rooted in the understanding that continuous monitoring is the cornerstone of effective healthcare. 
Moreover, Viatom is not only focused on product development but also on providing comprehensive solutions for remote patient management and healthcare delivery. Its ViHealth Enterprise Data Collection Solution acts as a digital bridge between healthcare providers and their patients. The portfolio of wearable pulse oximeters, blood pressure monitors, ECG recorders, body composition scales, and innovative ultrasound scanners demonstrate their commitment to providing holistic solutions for health monitoring.
For more information, please visit: https://www.viatomtech.com/
About Us: Viatom is a leading medical technology company that is committed to producing healthcare products. With a focus on continuous monitoring, Viatom's innovations empower individuals and healthcare providers with real-time data insights for better health outcomes.
Contact Info:
Name: Viatom
Email: Send Email
Organization: Viatom
Address: 4E, Plant Building, Tingwei Industrial Park, No.6, Liufang Road Baoan District
Phone: +0086-755-86721161
Website: https://www.viatomtech.com/
Release ID: 89107013
Should any errors, concerns, or inconsistencies arise from the content provided in this press release that require attention or if a press release needs to be taken down, we kindly request that you immediately contact us at [email protected]. Our efficient team will be at your disposal for timely assistance within 8 hours – taking necessary measures to rectify identified issues or providing guidance on the removal process. We prioritize delivering accurate and reliable information.
link