Digital health, or digital healthcare, is a broad, multidisciplinary concept that includes concepts from an intersection between technology and healthcare. Digital health applies digital transformation to the healthcare field, incorporating software, hardware and services. Under its umbrella, digital health includes mobile health (mHealth) apps, electronic health records (EHRs), electronic medical records (EMRs), wearable devices, telehealth and telemedicine, as well as personalized medicine.
Stakeholders in the digital health field include patients, practitioners, researchers, application developers, and medical device manufacturers and distributors. Digital healthcare plays an increasingly important role in healthcare today.
Terms related to digital health include health information technology (health IT), healthcare tools, health analytics, healthcare informatics, hospital IT and medical technology.
What is digital health as we know it today?
The application of information and communications technology to provide digital health interventions to prevent disease and improve quality of life isn't a new concept. However, in the face of global concerns — related to aging, child illness and mortality, epidemics and pandemics, high costs, and the effects of poverty and racial discrimination on access to healthcare — digital health platforms, health systems and related technology continue to grow in importance and to evolve.
Government health insurance programs, such as the U.S. Affordable Care Act (ACA), have also brought about new developments in digital health. Despite technical issues when ACA was initially launched, ACA's objectives included improving the quality of healthcare through technology. For example, this included improving the quality of EHRs and computer modeling used to track healthcare spending. Employing technology and data to improve patient health and quality of care is called healthcare informatics. This enables healthcare professionals to assess new programs, look for areas of improvement within the healthcare sector and integrate new technologies into medicine.
Further fanning the flames of change, the COVID-19 pandemic has helped further fuel the ongoing digital transformation in healthcare. According to Forrester Research, the most impactful COVID-19 technologies include patient-facing tools, such as online symptom checkers, patient portals, remote patient monitoring tools and telehealth.
Why is digital health important?
According to Deloitte Insights, digital health employs more than just technologies and tools; it also views "radically interoperable data, artificial intelligence (AI), and open, secure platforms as central to the promise of more consumer-focused, prevention-oriented care."
Advances in AI, big data, robotics and machine learning continue to bring about major changes in digital healthcare. Also, alternations in the digital healthcare landscape continue developments in ingestible sensors, robotic caregivers, and devices and apps to monitor patients remotely.
According to Deloitte: "AI will enable major scientific breakthroughs, accelerating the creation of new therapies and vaccines to fight diseases. AI-enabled digital therapeutics and personalized recommendations will empower consumers to prevent health issues from developing. AI-generated insights will influence diagnosis and treatment choices, leading to safer and more effective treatments. Additionally, intelligent manufacturing and supply chain solutions will ensure the right treatments and interventions are delivered at the exact moment needed by the patient."
Precedence Research projected that the global digital health market will see a compound annual growth rate (CAGR) of 27.9% from 2020 to 2027, when it will reach $833.44 billion. According to the Ottawa-based market research firm, a jump in the number of healthcare apps is fueling this growth. North America accounts for the dominant share in the global digital health market due to the region's rising elderly population, high adoption rate of smartphones, and the push to develop apps and digital healthcare platforms to reduce healthcare costs.
Examples of digital health technology
Digital health innovations are designed to help save time, boost accuracy and efficiency, and combine technologies in ways that are new to healthcare. These innovations can meld medicine and the internet of things, mHealth and IoT, medicine and augmented reality (AR), and blockchain and EMRs.
The internet of medical things (IoMT) refers to the combination of medical devices and applications connecting to health IT systems that use networking technologies. IoT use cases range from telemedicine technology to improve communication between patients and doctors, to decreasing the potential for exposure to contagious diseases and to various smart sensor technologies that can collect data at the user level. For example, demand for telehealth services rose as a result of COVID-19, with a greater number of providers relying on technology to deliver virtual services to patients.
Innovative IoT applications in healthcare continue to emerge. Cleveland Clinic ranked smartphone-based pacemaker devices as a top innovation for 2021. Using a mobile app, smartphone-connected pacemaker devices can be designed to securely and wirelessly transmit data to a patient's network, giving patients better insight into the health data from the pacemakers and transmitting the health information to their physicians.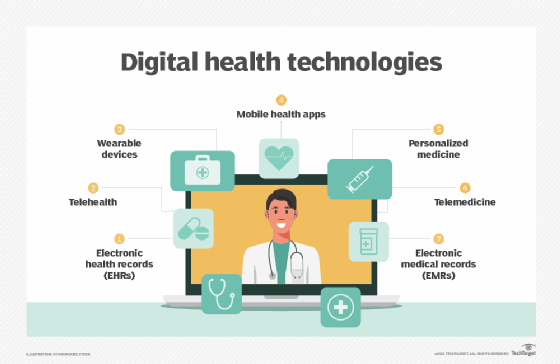 MHealth, including wearables, apps and mobile technology that provide access to health care support and monitoring, is experiencing growth, particularly for helping manage long-term, chronic conditions. The COVID-19 pandemic has led to a rise in demand for personal health monitoring via wearables, which straddle the line between consumer and medical devices. Vendors of wearable devices added features for heart rate variability, pulse oximeters, electrocardiography and continuous glucose monitoring.
Another significant application is blockchain-based EMRs, which aim to reduce the time needed to access patient information while improving data quality and interoperability. Blockchain's benefits — access security, data privacy and scalability — are attractive in digital healthcare.
Using AI in the healthcare applications can augment human decision-making by automating and speeding up previously labor-intensive tasks. Many hospitals, for example, use AI-based patient monitoring tools to collect and treat the patient based on real-time reports. In medical imaging, the use of AI can reduce the number of clicks needed to perform a task and determine the next steps based on context. Another AI application, digital twins, can be used to model medical devices and patients and show how devices would work under actual conditions.
AR, which integrates digital information with the user's environment in real time, is applicable in patient and doctor education, surgical visualization and disease simulation.
Big data — which draws information from all these health systems and applications — poses both benefits and challenges. The amount of data is massive and continues to proliferate.
Big data in healthcare
The digitization of health information led to the rise of healthcare big data. The emergence of value-based care also contributes to the emergence of healthcare big data by spurring the industry to employ data analytics to make informed business decisions.
According to Healthgrades, a website that helps users find appropriate doctors, hospitals and care: "Healthcare big data refers to collecting, analyzing, and leveraging consumer, patient, physical, and clinical data that is too vast or complex to be understood by traditional means of data processing. Instead, big data is often processed by machine learning algorithms and data scientists."
However, "faced with the challenges of healthcare data — such as volume, velocity, variety, and veracity — health systems need to adopt technology capable of collecting, storing, and analyzing this information to produce actionable insights," according to Healthgrades.
In healthcare, big data can provide the following benefits:
Reducing medication errors. By analyzing patient records, software can find inconsistencies between a patient's health and prescriptions and then notify health professionals and patients of a potential medication error.
Aiding in preventive care. A large volume of recurring patients — or frequent flyers — flock to emergency rooms. Using big data analysis can help identify this type of patient and develop preventive plans to keep them from returning.
Staffing more accurately. Predictive analysis could help hospitals and clinics predict admission rates so that they can improve staff scheduling.
Benefits of digital health
Digital health has the potential to prevent disease and lower healthcare costs, while helping patients monitor and manage chronic conditions. It can also tailor medicine for individual patients.
Healthcare providers also can benefit from advances in digital health. Digital tools give healthcare providers an extensive view of patient health by significantly increasing access to health data and giving patients greater control over their health. The result is increased efficiency and improved medical outcomes.
The U.S. Food and Drug Administration (FDA) website states: "From mobile medical apps and software that support the clinical decisions doctors make every day to artificial intelligence and machine learning, digital technology has been driving a revolution in health care. Digital health tools have the vast potential to improve our ability to accurately diagnose and treat disease and to enhance the delivery of health care for the individual."
Additionally, technologies such as smartphones, social networks and internet applications offer new ways for patients to monitor their health and have increased access to information. "Together, these advancements are leading to a convergence of people, information, technology, and connectivity to improve health care and health outcomes," according to the FDA.
According to the FDA, digital health technologies help providers reduce inefficiencies, improve access, reduce costs, increase quality and make medicine more personalized for patients. At the same time, digital health technologies enable patients and consumers to manage and track health and wellness-related activities more efficiently.
While technologies such as virtual reality (VR) tools, wearable medical devices, telehealth and 5G help improve treatment for patients, medical professionals can streamline their workflows using AI-powered systems.
Challenges of digital health
The digital transformation of healthcare has raised several challenges that affect patients, medical professionals, technology developers, policymakers and others. Due to the massive amounts of data collected from a variety of systems that store and code data differently, data interoperability is an ongoing challenge.
Additional challenges relate to concerns ranging from digital literacy among patients and the resulting unequal access to healthcare to issues related to data storage, access, sharing and ownership. These concerns, in turn, raise security and privacy questions. For example, what if employers or insurers want to gather data from employees' direct-to-consumer genetic testing results? Or what if medical devices are hacked?
Additional concerns relate to technology and ethics. For example, when medical robots are used, who is responsible for mistakes made during surgery: the hospital, the technology developer or manufacturer, the doctor who used the robot or someone else?
Regulation and patient privacy
In the United States, the Health Insurance Portability and Accountability Act (HIPAA) of 1996 was written to protect patients' personal data. HIPAA was amended in 2009 with the introduction of the Health Information Technology for Economic and Clinical Health (HITECH) Act, which was designed to make HIPAA compliance stricter. However, critics of those acts said they do not go far enough to limit access to patient data without consent and HIPAA regulations are often violated. In late 2020, the U.S. Department of Health and Human Services (HHS) proposed changes to HIPAA concerning privacy and security standards that negatively affect a patient's ability to access personal health data and interfere with healthcare's transition to value-based care, a model focused on value and quality of care.
link